Canine Hydrotherapy and Physiotherapy
Our newest addition to the services at Happi days is our large hydrotherapy pool at Martlesham.
Great for dogs with needs for non weight bearing exercises, our qualified hydrotherapist will take your dog through a number of exercises and swimming activities to strengthen and build communication with damaged joints, weakened areas and muscles in this non weight bearing environment.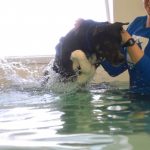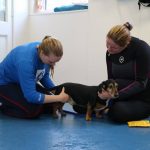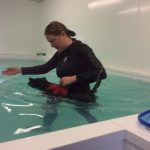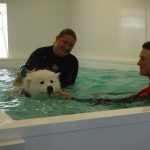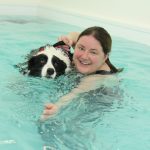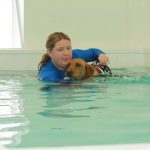 Helpful Hydrotherapy For Dogs
This is very useful if you have an overweight dog, injured dog, sports or working dog, or elderly dog needing more appropriate forms of exercise. Please feel free to call for more information, to be sent an information leaflet or download our vet referal form. All dogs need to have one signed by the vet to say they are fit to swim, even if the session is for pleasure.
Happi Days is also now working with Lisa Grier, a fully qualified Veterinary Physiotherapist. She offers: Soft tissue mobilisations, Massage, Trigger point therapy, Myofascial release, Kinesio taping, Stretching, Electrotherapies and Remedial exercises.