Dog Day Care Services in Suffolk
We are Suffolk's first bespoke 5 star dog day care centre and top dog boarding facility. We have centres in both Rendlesham and Martlesham, with overnight luxury accommodation in Eyke. We are all well experienced, passionate dog lovers and owners. We pride ourselves on providing the same kind of care for your dogs as you would give them yourself.
What Do We Offer?
We offer large open plan outdoor play areas and woodland walks for the summer, with access indoors to heated playrooms during the winter. We also have cosy open plan sofa rooms, with soft bedding and human company at all times.
There is also plenty of water around to keep your dog nice and hydrated and toys galore for those that want a busy day, treats for those that are allowed them, water play in the summer and indoor sports activities for the cold days.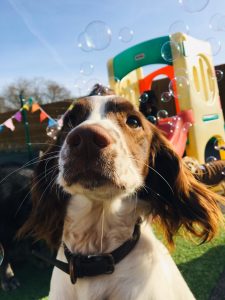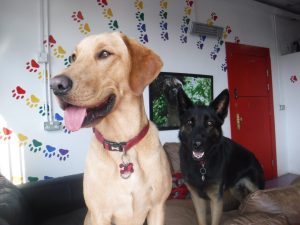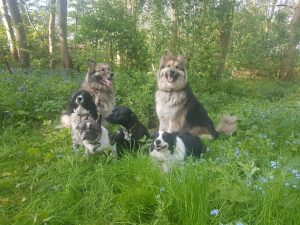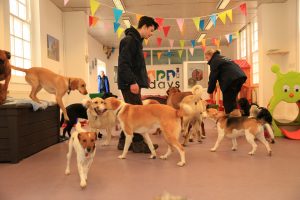 Keeping Your Dog Safe
Dogs are grouped by temperament, size and age. This is to ensure the best match for your dog, so they always enjoy their stay with us. All dogs are supervised by experienced staff members with decades of experience between them.
All areas are six to eight foot fenced to ensure there are no escapees, all new dogs are temperament assessed before they are allowed to stay (with free trial play sessions available) and all exits are double gated and locked. We have it all covered.
If that wasn't enough, we are also partnered with the Ryder Davies Clinic in Rendlesham. So, if there is a medical emergency of any kind, we can get your dog seen to quickly. Absolutely nothing is left to chance.
Recommended Services
Below is a list of the most popular services that we have to offer here at Happi Days.
Staying The Night?
Once your pooch has had a long and exciting day mingling with the dogs at day care, it's time to bed down for the night. Dogs that are staying on holiday with us are taken home to Eyke Elm Cottage overnight, not left on site.
These custom designed luxury boarding blocks are underfloor heated with soft flooring (not concrete), decorated and have super soft bedding to match. The rooms are also alarmed, so there are no runaways in the night.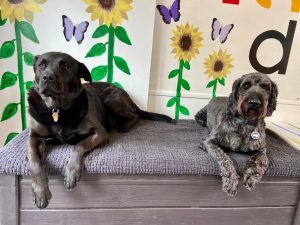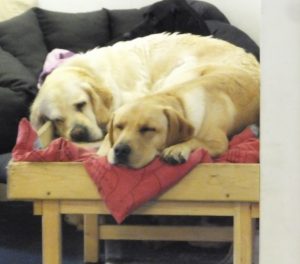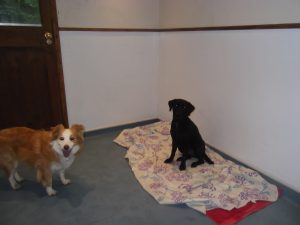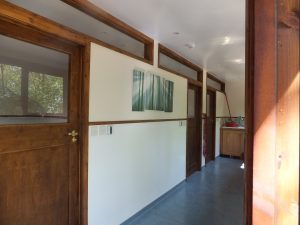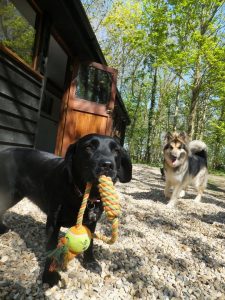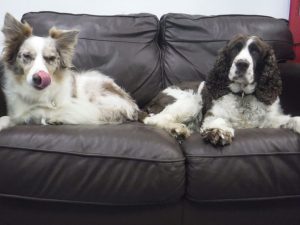 Additional Services
Although we are well renowned for our incredible day care and boarding services, we also offer a variety of complimentary services. If you don't wish for your pup to stay a whole day, we offer short play sessions. If your dog needs to let out some energy, you can take advantage of our fun agility services. Or, if your pooch wants to be pampered, we also offer dog grooming.

Want To Learn More?
If you haven't found what you're looking for on the website, or on our FAQ's page, then please feel free to get in touch. You can fill in one of our contact forms, email us directly at admin@happidayscentre.co.uk.
Call us on 07375 941 544 for bookings and payments.
Or 01394 420 468 for Rendlesham or 01473 623 661 for Martlesham
A few words from our Happi customers
"Happi Days has been the best place for my Dachshund. He goes twice a week and has done since he was 4 months old. I was and have never been worried about him being around lots of other dogs as I know he is always well looked after. What I love about Happi Days is the themed days they do (agility classes, photo-shoots, pirate days, best dressed, dog of the month, Valentine's day, Christmas and many more!) and no doggy is ever left out. The woodland walks are always a hit with Bean and a great option for all doggies.
He absolutely loves it there; all staff are very friendly and accommodating in helping Bean be a great socialised loving dog. He loves the interaction and the skills he has learnt – as a result he is so well behaved and for that I couldn't be more thankful to Happi Days." 
Lou Bigden
"I have two beautiful, calm Black Labs so I am not quite sure why I got a Pug, a Pug called Pebbles. A pug who is a proper little Princess. Pebbles is a small dog, but she thinks she is a lot bigger than she is! She certainly makes up for it with her outgoing personality and huge character. She was noisy, nippy, aggressive, visitors would have found Pebbles bouncing up, being a yapping, biting nuisance. 
I decided on sending Pebbles to Happi Days twice a week would at least give the big dogs a break from her never-ending attentions. From the very first week her behaviour started to improve.  She has become so much calmer; she clearly enjoys every activity at Happi Days from football to Woodland Walks.  She also stopped being so nippy and aggressive, when we have visitors at home.  The thought of her snuggled up on Alex's shoulder was practically a miracle.  The staff are professional, caring and I completely trust them with my dog – I can't praise Happi Days enough."
Claire Ellis
"Happi Days is brilliant!! It's the ideal place to leave your puppy whilst at work or out and about. The staff are all lovely and I can tell how much they adore all the dogs. The dogs have so much and the photos they take are great! Thank you for looking after our puppy!!"
Grace Teager
Poppy was very nervous and found her induction quite difficult, she did not want to leave us and of course had no idea where she was going or if we were going to pick her up again! Fortunately the staff at happi days were understanding and reassuring both with Poppy and us. Two weeks went by where Poppy was getting her bearings then suddenly everything fell into place for her, she cannot get out the car quick enough and pulls in the direction of the door, sure sign of a happy dog. We consider ourselves very lucky to have found such a lovely day care facility, where Poppy's needs are met fully and like all 'parents' I enjoy seeing the activities they all join in via the photographs posted each day. Thank you everyone at happi days.
Sonia Williams
Read some more