Happi Days Dog Care
The idea for Happi Days started with company owner, Helen Brown. Helen had been an avid and experienced dog walker for many years. She also started to board dogs, but found herself conflicted with traditional boarding ways.
She felt that dogs in the local area (and beyond) deserved better. They deserved a place that felt like a home from home, not just a concrete kennel. She began to pursue her dream of creating a fantastic dog creche like no other, with husband, Chris.
Home From Home Dog Boarding in Suffolk
Helen approached the local council in order to obtain a special licence for her ideal creche. It wasn't easy and there was a very lengthy negotiation over several months, including several veterinary inspections. Finally, in 2008, Helen was granted her licence and began the Happi Days business.
With licence in hand, husband Chris got to work on creating the creche. Chris worked on everything from the flooring to the 6ft fencing. With the last lick of paint came the birth of Suffolk's first fully licensed creche. Helen and Chris couldn't have been happier.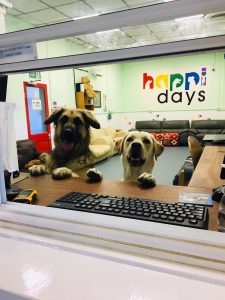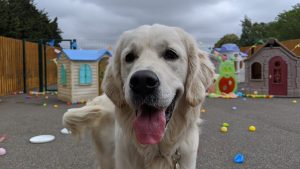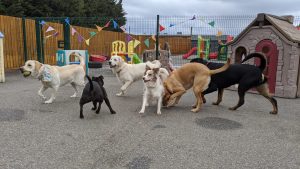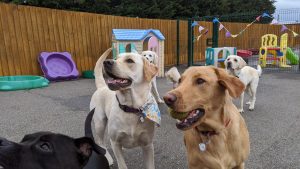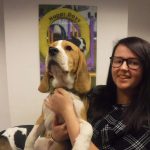 Expanding The Business
When the business opened in 2008, it became an instant hit among the local community. Bookings came in thick and fast over several years. Helen and Chris then decided that it was the right time to expand the business.
Their first creche in Rendlesham was then joined by a holiday boarding kennel in Eyke, then another creche in Martlesham. There were now 3 incredible premises, 2 of which are equipped with professional grooming salons.
Specialist Services
Over time, Helen noticed a need for more specialist services for the local residents. Many older and larger dogs staying with them had mobility issues, mainly due to arthritis or hip dysplasia.
Helen decided to create a hydrotherapy pool in Martlesham. She sought to gain a Level Three Hydrotherapist qualification for herself, and also sought a fully qualified Veterinary Physiotherapist in the form of Lisa Grier (a member of RAMP and NAVP).
One Big Happi Family
What started out as a husband and wife duo expanded into a 20+ strong team (plus various hard working doggy temperament assessors and mascot, Hugo).
Many of our talented and passionate staff members have relevant qualifications that make them perfect for the job. But one thing they all have in common is that they all adore dogs! You can be sure that your pooch is well looked after and properly pampered by our wonderful workers.