Our Team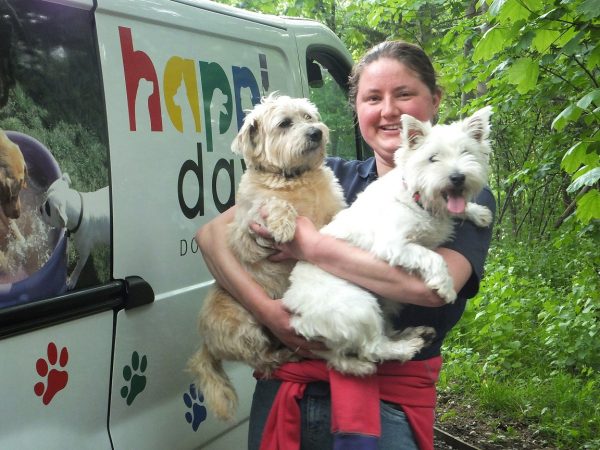 Helen Brown Bsc Hons (Owner)
Hi I'm Helen, owner of Happi Days. I have a degree in Business Management, level 3 NVQ in horse care and level 3 Certificate in Canine Hydrothotherapy.
Since our Rendlesham crèche (the first in Suffolk) was opened, our canine family has expanded and now includes two shepherd crosses called Shadow and Angel, a springer called Daisy, a collie called Lara and a French bull dog called Gismo. They all have been given to us due to difficult circumstances in their previous owners lives, and all love spending their days with their chums at Happi Days. You will often see them in the Happi Days playgrounds in our facebook pictures each day with your dogs.
We also have our two wonderful children Jessica and Joshua who are absolute doggie fanatics.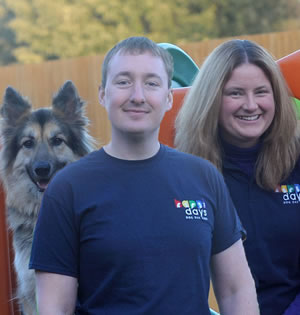 My Husband Chris (Owner)
Chris acts as handyman and general help whenever we need it, often roping in his Dad (Martin) to help build and fix things. I think he makes any excuse to come and play with the dogs!
Chris is also our IT man, with help from Maurice Gifford. Maurice designed and made the new database. He keeps the computers and new database running! After being around me and my dogs for 15 years now, Chris was finally smitten by a little springer spaniel from the Loddon Wood green dog rescue centre. We named her Daisy and she is currently in training for her future role in detection.Thanks Maurice!!!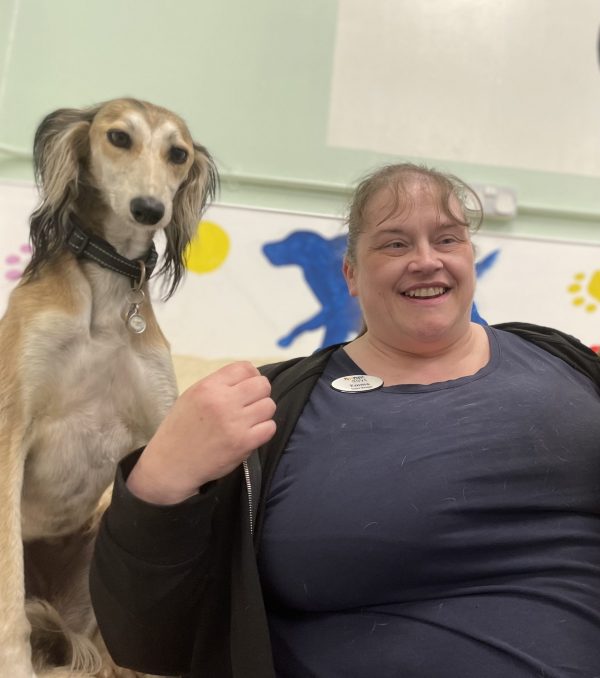 Emma
Owner of Billy, Paddy, Lilly, Callie, Delilah and Willow, Emma has a life time of experience with rescue dogs. Having such a array of dogs to care for, with problems such as epilepsy, she has endless advice for any owner! With a number of canine qualifications Emma offers behavioural advice to anyone having problems at home or out walking. Please feel free to ask her about this!
Emma is the main organisational contact at Happi Days for Rendlesham and holiday bookings, other than the business owners. She does most of the bookings, enrolments and holiday stay confirmations. You are likely to see Emma in the small Creche area where you drop off in the mornings. Please feel free to ask any questions revolving around your dogs care both with us and at home; Emma will always make time to help out with advice.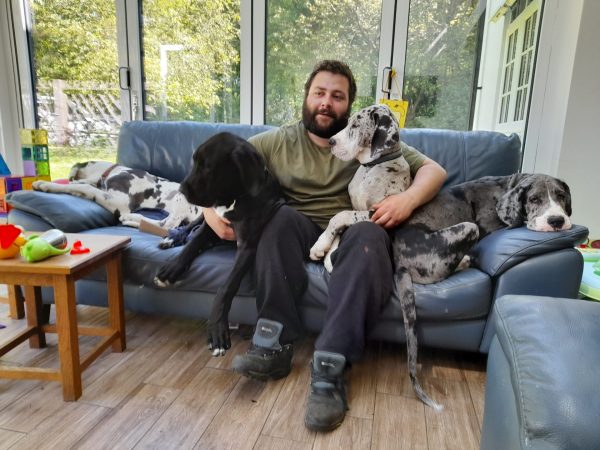 Alex
Alex is the manager of our Rendlesham creche!  Alex has come from running his own home boarding and walking services with over 12 years of experience.
He also has his own lovely dogs, Tilly, a red merle Collie, Poppy, a fox red Labrador and Margot, a blue Whippet. He has loads of experience working with dogs of all sizes and temperaments and is often out and about around Martlesham as walking his dogs is his favourite hobby.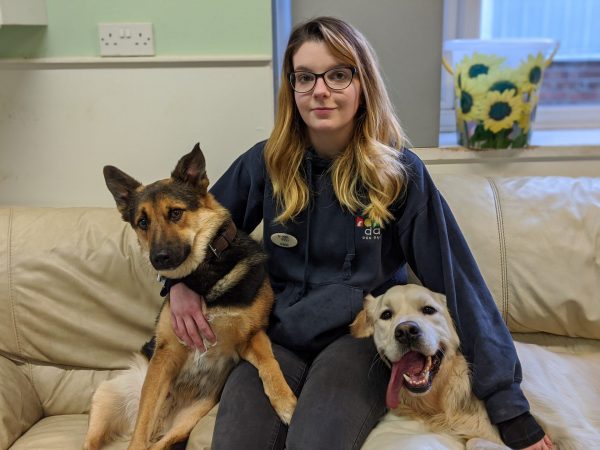 Nikki
Nikki is Martlesham's manager! She used to work for the RSPCA on the weekends and has past experiences of creches whilst studying for her Level 3 Diploma in Animal Management. Nikki has also volunteered abroad in Bulgaria at a rescue center which is where she fell in love with her 3 legged German Shepherd Jacob, who now spends his days in sunny Suffolk with her Golden Retriever Koda.
You will usually find Nikki in reception, welcoming everyone in the mornings and sending them out to play. Nikki spends her time with the small dogs in our small creche area, giving out lots of cuddles and helping puppies make new friends.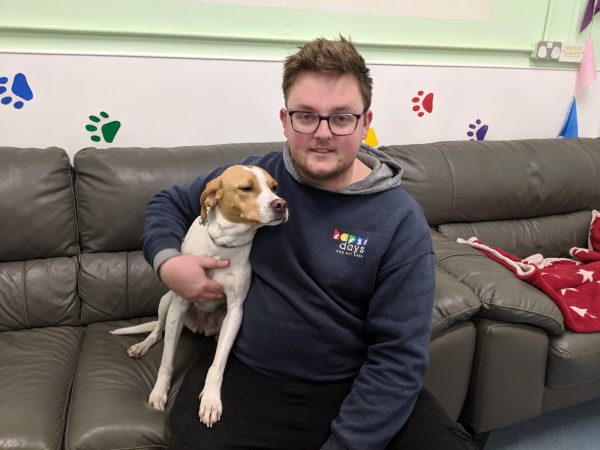 Josh
Josh came to us 9 years ago when he was completing his animal care qualifications with Otley College, he was so natural with the dogs we offered him a job once he had left the college. He has grown in experience and knowledge working for us full time for 7 years now and is a senior playground supervisor, knowing every Rendlesham visitor like the back of his hand.
He owns two Rottweiler's, Woo and Dodson, so Josh knows what it is like to live with two large teddy bears. A very popular member of staff with the dogs as he is never far away with a toy and loves  joining in with climbing on the castle with all his canine pals.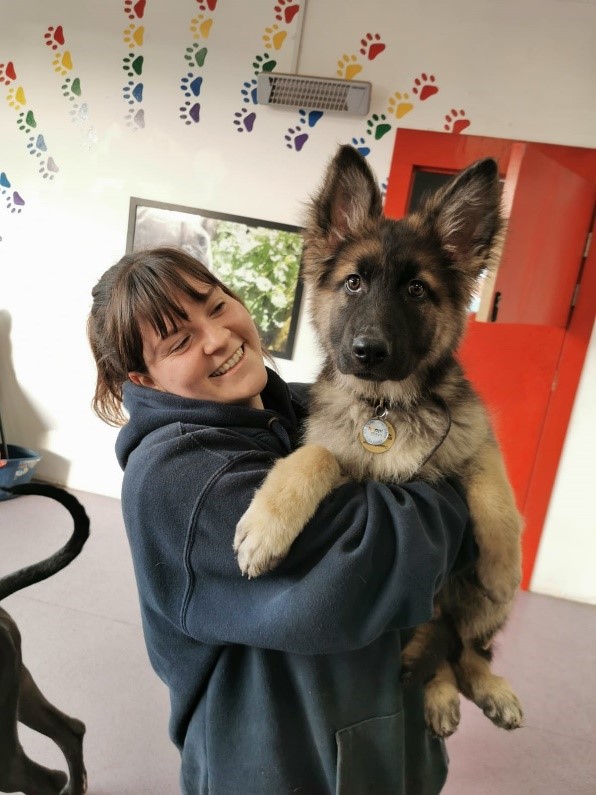 Tash
Tash lives with her big mischievous little Staffie, Lexi, and started at Happi Days as part of her college work experience. Since then she has become an irreplaceable member of staff. Tash manages the boarders at the Hotel and can often be found on Woodland Walks or with the dogs at Rendlesham.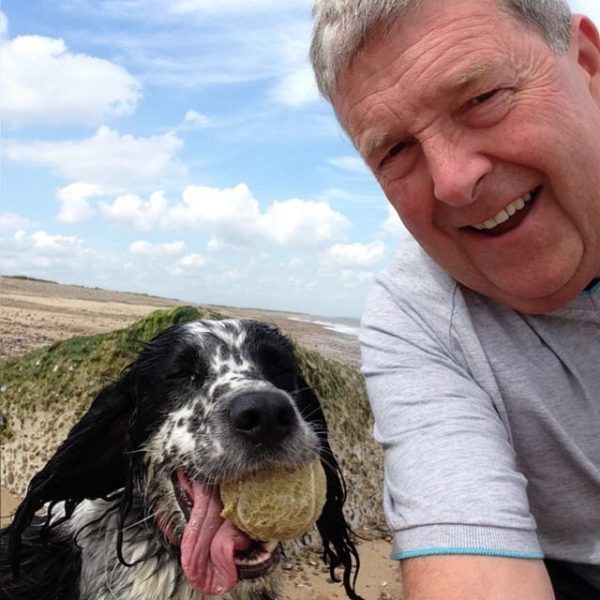 Martin
Martin is Chris' father and is our general handy man. He's always happi to help if something needs fixing, or if something needs to be built. His spaniel Lilly is also happi to come along to aid Martin in his adventures and help out.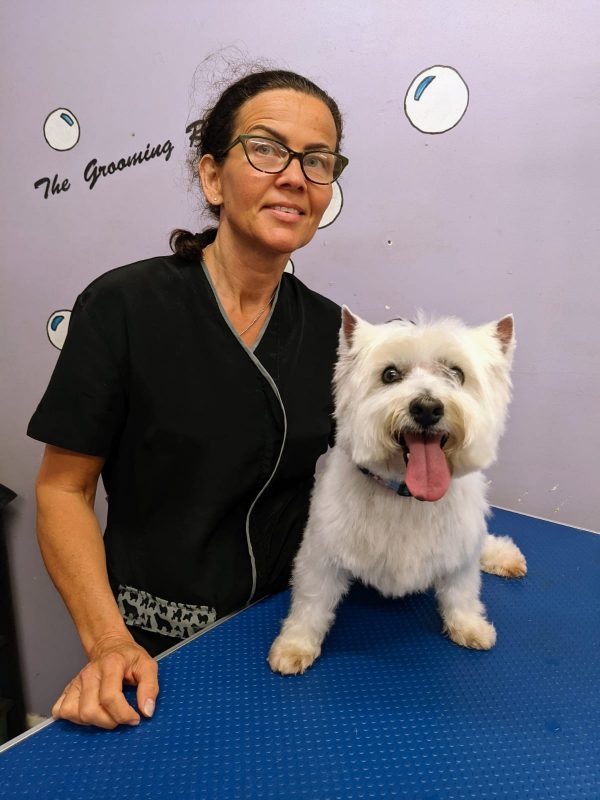 Joanna
We are so delighted to have working for us such a well qualified, experienced groomer. Joanna is here three days a week to cover all you dog grooming needs including hand stripping, show cuts, anal glands and nails.
Joanna loves the interaction one to one pampering of your beloved pet and creates a real bond with her canine clients. She is gentle, kind and doesn't rush your dog so they feel comfortable and happi in our parlor.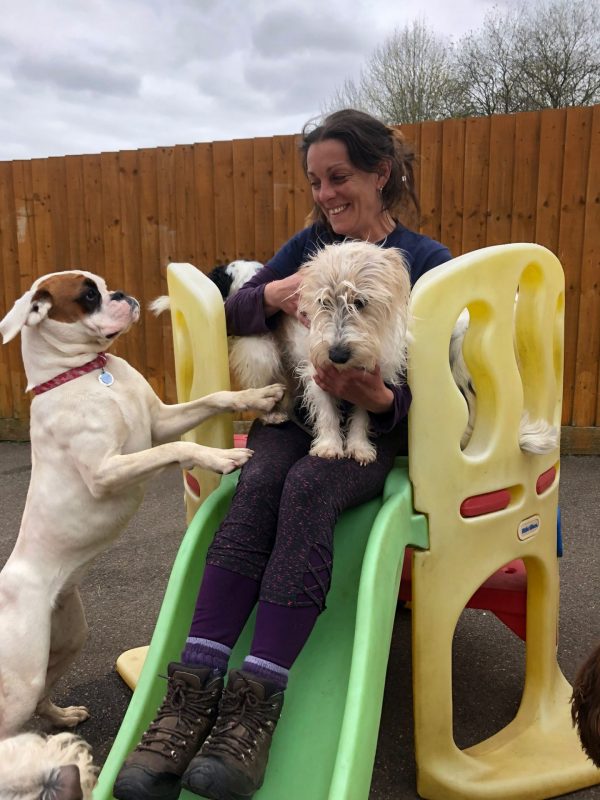 Sadie
Sadie volunteered to help at Happi days as she wanted a new career path and this was her ideal job. Sadie fitted in well and had to stay and so now has a full time job here. Her favorite job here after the main dog care fun is pressure washing as it is such a satisfying job getting everything spick and span. Sadie is a big Jack Russell fan and owned many Jack Russell's but can be found cuddling all dogs big and small at creche.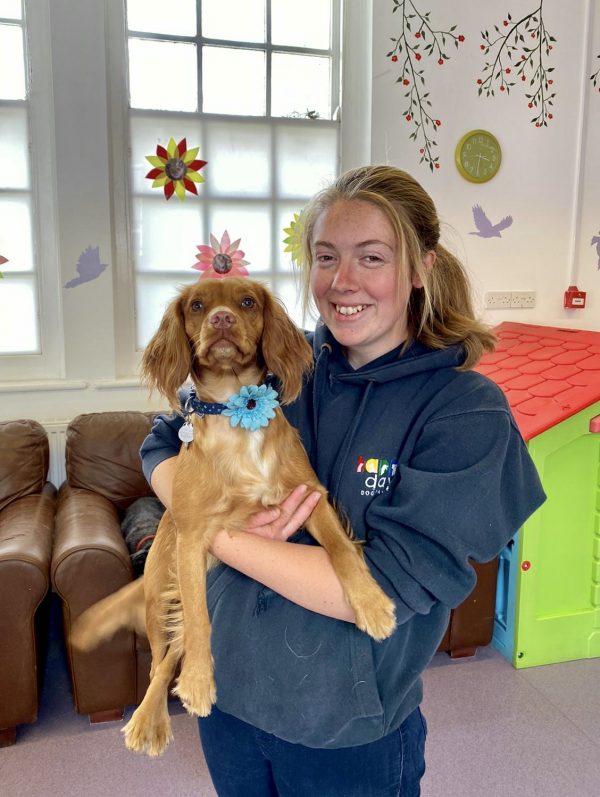 Louise
Louise is our dog supervisor at Martlesham, she is very much used to the hussle and bussle of daycareas she owns 7 Spaniels and a German Spitz at home! Louise has an abundance of experience doing agility and obedience with her own dogs, she has even competed at Crufts. With over 3 years experience with our Martlesham creche Louise has always been there at 7am to greet each and every dog who comes out to the paddock to play with a Happi face and a friend to play with. She watches everyone's early morning zoomies and playtime and captures it on her phone with her amazing camera skills.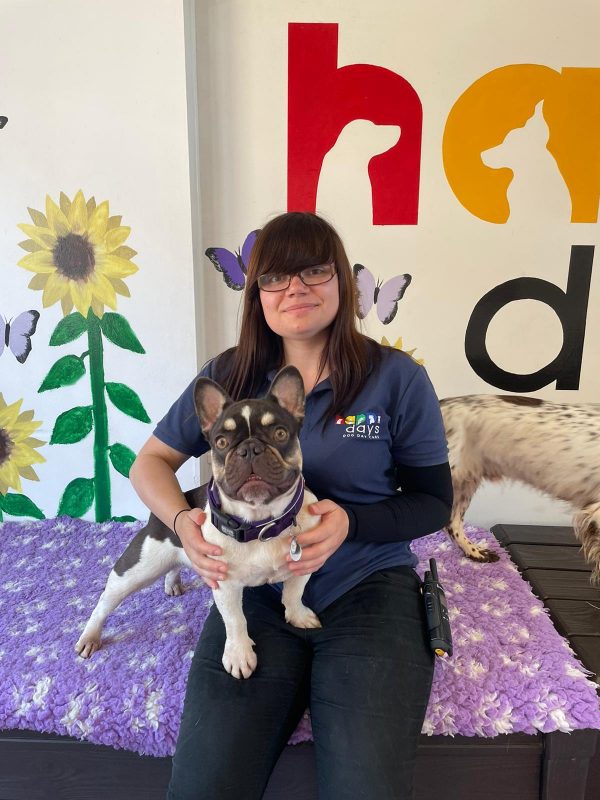 Abigail
Abigail has recently been studying at university and has come to Happi days as the next step in her career. She is enjoying being with the dogs, keeping the place clean, tidy, entertaining and observing all activities. Abigail is mostly found in the playful side of our Martlesham creche but she is very versatile, knowledgeable and flexible as to helping with all jobs, a good all rounder.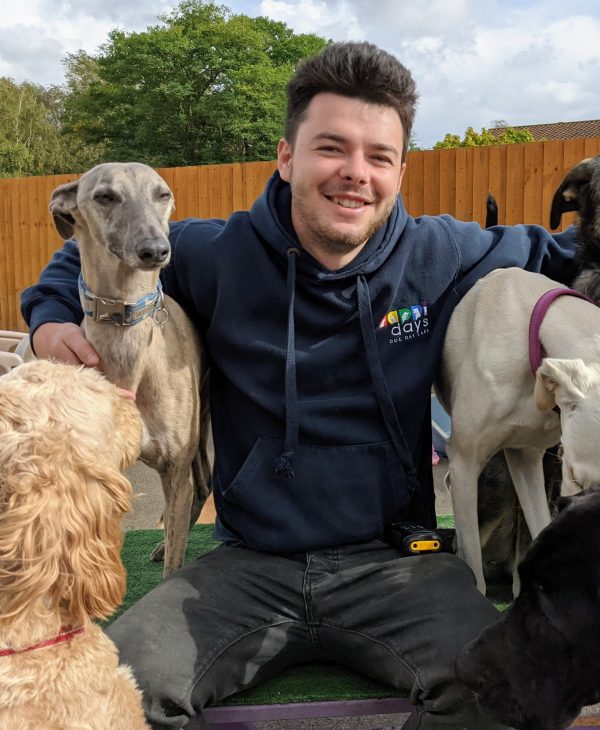 Harry
Harry Crabb first started at Happi days as work experience over 7 years ago and loved working with dogs so much he couldn't resit staying. Harry was training at Otley in animal management and doing his work experience hours here, we soon learnt he is a natural with the dogs. Harry has a greyhound and a whippet who are very much part of the family. Harry is one of the playground supervisors at our larger Rendlesham creche and is never far away with a tennis ball or toy.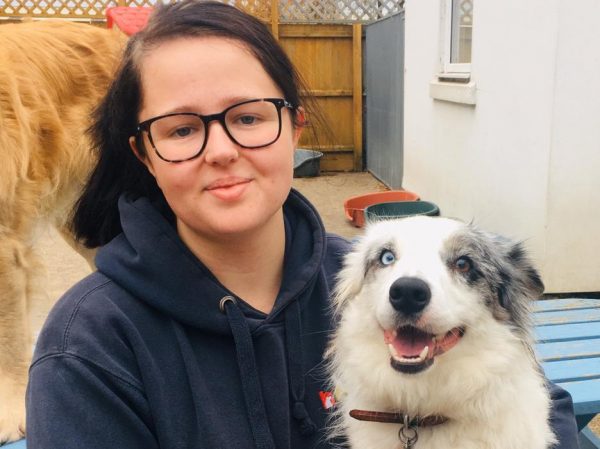 Ellie
Ellie was another amazing work experience student we couldn't let leave us. So she now works full time at our Martlesham creche as a Canine Supervisor. Ellie has over 3 years experience with our Happi family so she knows all the dogs like the back of her hand; who is friends with who, who likes toys and who prefers cuddles, when Ellie is here everyone has a paw-some day. She is also the person behind the wonderful photos you see on Facebook each day, Ellie has an eye for the perfect camera shot, so you can thank her for capturing your dogs moments with us.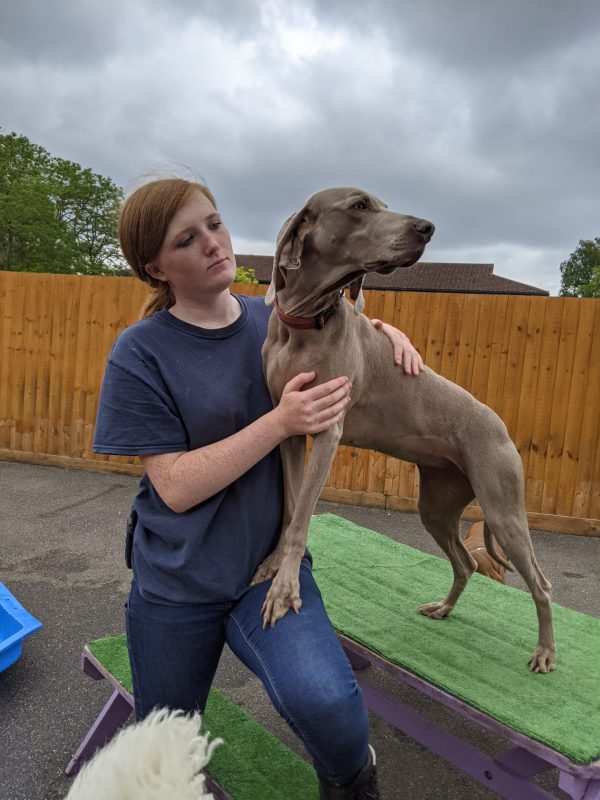 Danica
Danica used to be found at our luxury hotel block on the weekends walking and looking after the boarders and studying animal landbase studies at Otley College. She recently has become full time after enjoying her days here so much and can be found creating fun times for the dogs with theme events and parties being her favorite pastime. She has an array of pets she cares for herself including 1 dog, 2 cats, 2 tortoises, 6 giant African land snails, a bird and fish!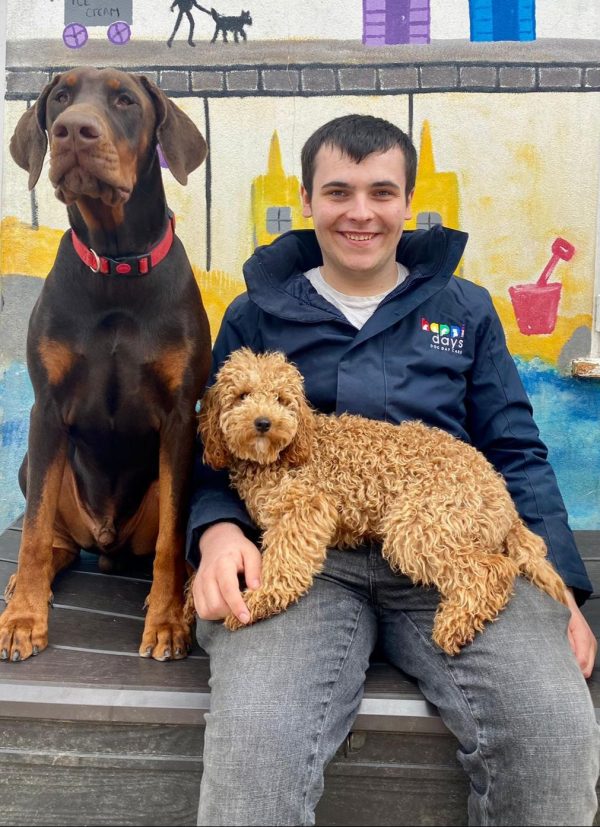 Harry
Harry has come to us having been doing an animal management course at Otley college. Harry has fitted in really well as his family have five dogs and so being at Happi days is a home from home for him. Harry is also particularly involved in the new scheme of adventure days. Having been a key member at Martlesham creche he comes with the adventure days dogs to our Rendlesham creche to make sure a knowledgeable familiar face goes with those from Martlesham creche to our larger Rendlesham creche to make their ease of settling process much smoother. Harry is a kind and considerate member of staff who reads and understands the dogs emotions and is very sensitive to their needs.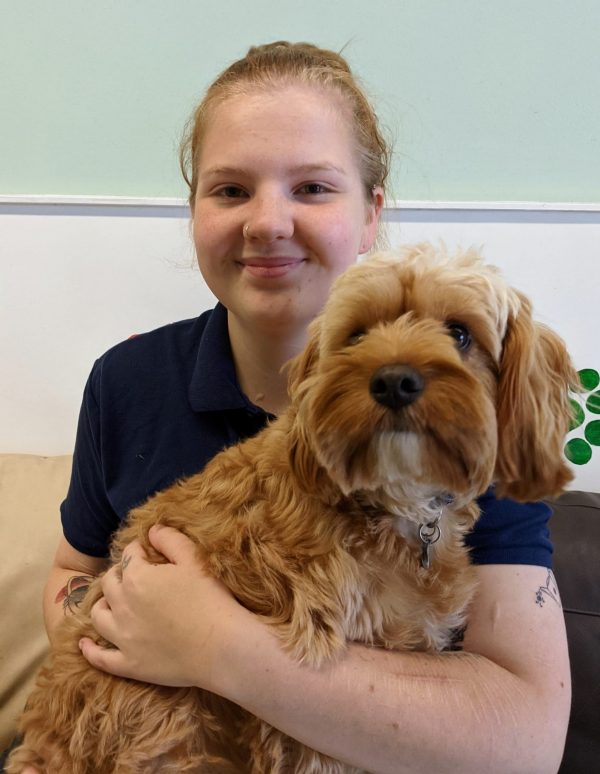 Kat
Kat was regularly volunteering enjoying the company of dogs coming from a background of being a dog walker. She chose to volunteer to help her establish what she would like to do in life and decided this was definitely it and so we took her on full time. Kat has fitted in really well with her passion for dogs and kind caring nature. Kat owns two dogs (Digby the dachshund and Sophie the spaniel), a cat and a hamster who also keep her busy out of hours.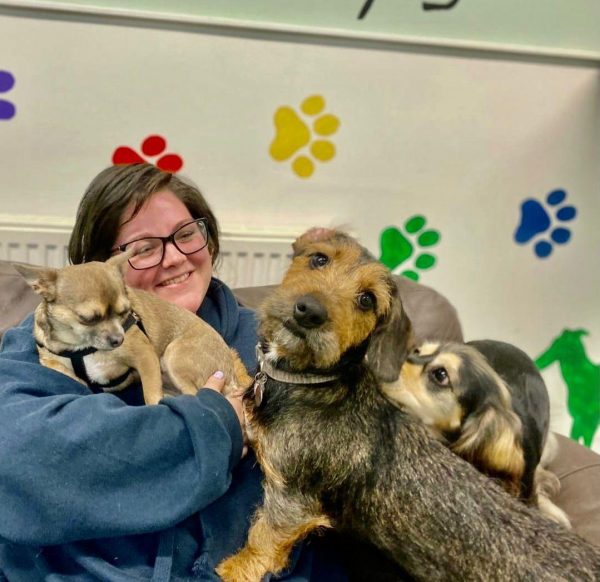 Heather
Heather has come to us to help Emma with bookings, with the ever increasing demand for our popular services. Heather was originally a dog groomer and has wealth of knowledge about all things canine. Having been a bookings administrator at the Suffolk New College, Heather has the ideal combination of experience to co-ordinate all your requirements and dog needs. Her dream would be to get two newfoundland puppies once she is settled so watch this space.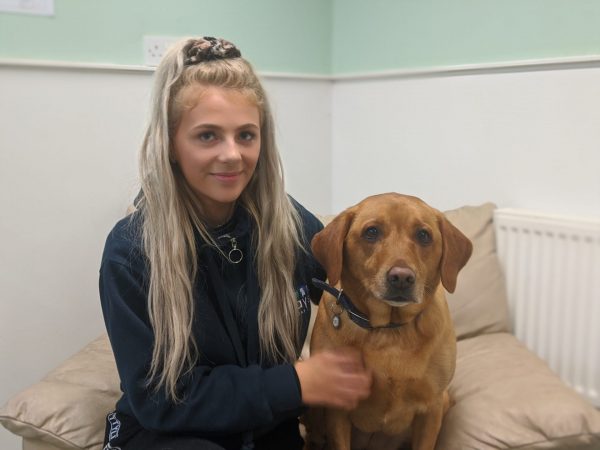 Maddy
Maddy came to Happi days through work experience whilst studying a diploma in Animal care, whilst she was with us we found her so helpful we couldn't let her go and she now works full time as a supervisor. You will mostly see Maddy on Reception in the evenings, when you come to collect you content and tired pooch. She always has the days gossip and can tell you exactly what your pooch has been up to and who their new besties are. However she is also very knowledgeable and experienced with our four legged friends, so Maddy is also often out the back helping plan new and exciting activities with everyone and keeping everything super fun!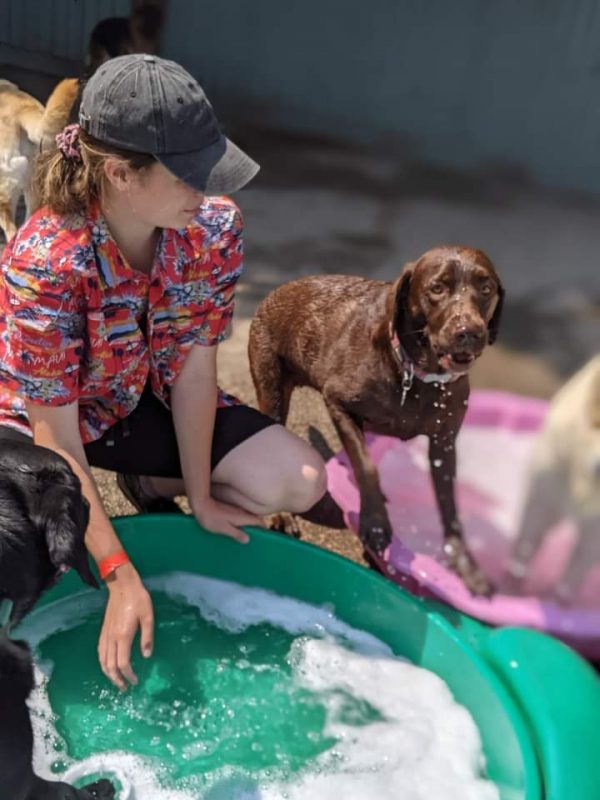 Amber
Amber has come to us having been so happy with the services when her two Labradors came for a holiday and she just wanted to be part of the action. Amber is a keen fan of anything animal related and is going on to study ecology at University. However shes determined to remain as part of the team and will be back during all her holidays to cover and get her doggie fix.
Amber featured here in her Hawaiian shirt on one of our theme days, loves the action and games and is forever thinking up new activities for the dogs.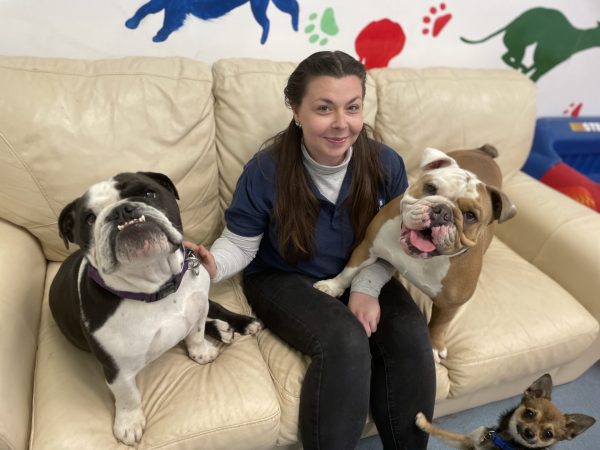 Michelle
Michelle has come to us recently after impressing us with her amazing ability with dogs and reception work. Michelle is an all rounder that is very happy both busy dog side and in a customer facing role in reception. Michelle is a mum and dog owner and is therefore very used to having to be patient and confident in all situations. Having worked in both Kennels and Dog day cares before she has vast experience and knowledge to share.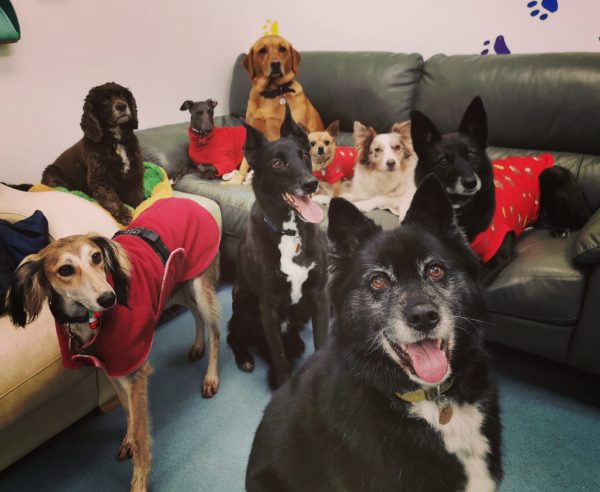 Doggie Temperament Assessors!
We are proud to introduce new dogs to these pups before they are introduced to the busy excitable crèche dogs. This helps create a calm, quiet first experience here at Happi Days. These doggies are all used to being at the crèche each day, and meeting new dogs is all part of a normal day and, therefore, have a very laid back attitude towards new dogs. This is the best way for all newbies to be slowly introduced to this new home from home environment. We do this not only for safety of the existing dogs at the crèche, but also so that all new dogs get a positive experience the first few times they come. We are proud of our high intake and low refusal rate at Happi Days. This is achieved by appropriate introduction, slow exposure and gradually getting your dogs used to this new different experience.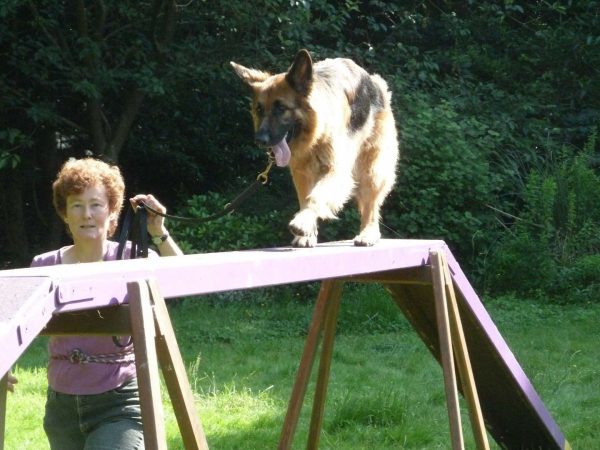 Caron
Caron originally came to Happi Days as a customer, socialising her German shepherd Tess, and her Hovawarts, (yes that is a breed I didn't make it up!!!) Tiggie and Truffle. As she had so much fun at Happi Days and couldn't bring herself to go home, she became our accountant and full time dog cuddle organiser and playmate.