Doggy Day Care in Ipswich, Suffolk
We have 2 main day care centres; one in Martlesham and the other in Rendlesham. Both are staffed with highly skilled and experienced individuals, who are both dog lovers and dog owners. Many of our staff are qualified in animal handling, as well as specialist doggie first aid.
We provide services for all ages, sizes and breeds. We tailor your dogs day dependant on their nature and energy levels. We make special arrangements for those with sensitive stomachs, the elderly, blind, deaf, very young and shy clients dependant on their needs. Please feel free to discuss any of these with our experienced knowledgeable staff. Having many different groups of dogs, and lots of members of staff, we can cater for all temperaments.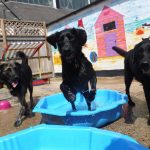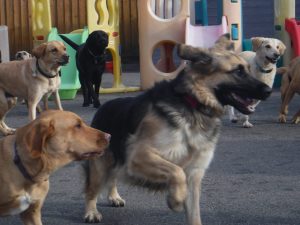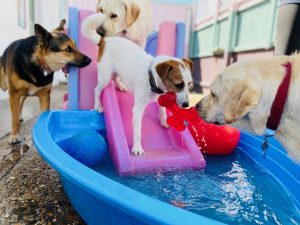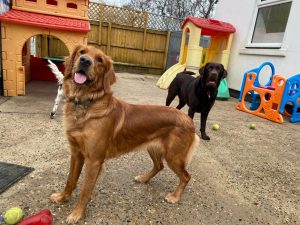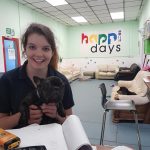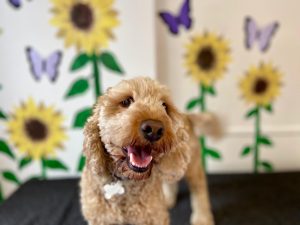 Time for Play at our Rendlesham & Martlesham Dog Crèche
We can also cater for your dogs all year around, with plenty of heated indoor space for play and time to go out before a rub down and a warm up again. We also have plenty of water and shade over the hot summer months, and the very best thing is that they can go for a woodland walk in the shade too over the summer months.
Please feel free to come along on one of our viewings at Rendlesham or Martlesham, to look all around the inner workings of our crèche. To see our luxury under floor heated overnight block, please book a Hotel viewing.
What Is Included?
We offer quiet and calm dog playgrounds, big and bouncy playgrounds, large indoor patio areas for relaxing, indoor zones (such as our Garden Room), playrooms and indoor crèche areas. There is always an area of our facility that is perfectly suited to your pooch.
We also have sofas for the oldies and puppies, rest and feed times, grooming facilities at both centres and reception/staff offices. All of which are highly doggie friendly and designed to be safe for even the most investigative puppy.
You can find out more about our day care facilities by getting in touch. You can fill in a contact form, email us directly or give us a call at either of our branches.