Why Not Treat Your Dog to a Holiday?
When it comes to holidays, we're all different. Some prefer to vacation with their pets, while others choose to enjoy holidays with their animals safely cared for elsewhere. At Happi Days Dog Day Care, we use our many years of expertise and our overwhelming love of dogs to provide secure, luxury dog boarding for your canine chums. Our dog boarding facilities include a play creche, outdoor play areas with toys and climbing equipment, and daily exercise in beautiful surroundings.
Let's have a look at the many benefits of boarding your dog while you are away.
Socialisation
Dogs are social creatures. It's in their nature to interact with other dogs. Offering them the chance to meet and socialise with other dogs in a comfortable environment can do wonders for their social and behavioural skills. Our dog boarding guests will have plenty of time to interact with humans and other dogs. Our dog hotel guests are given a daily visit to our popular dog creche where they will be able to meet their new friends.
Lots of Exercise
We know that dogs need lots of exercise to stay healthy and happy. All dogs that are boarded with us reside in one of our two dog hotels. These are located in a beautiful woodland environment that is great to explore. Sunday is play day, where all of our luxury dog boarding guests are able to run free in the woodland area. They can socialise to their heart's content before returning to their safe, private environment in the evening. This private space is one of the reasons that our holidays for dogs is so popular. It gives your pet a chance to unwind and relax after the excitement of the day.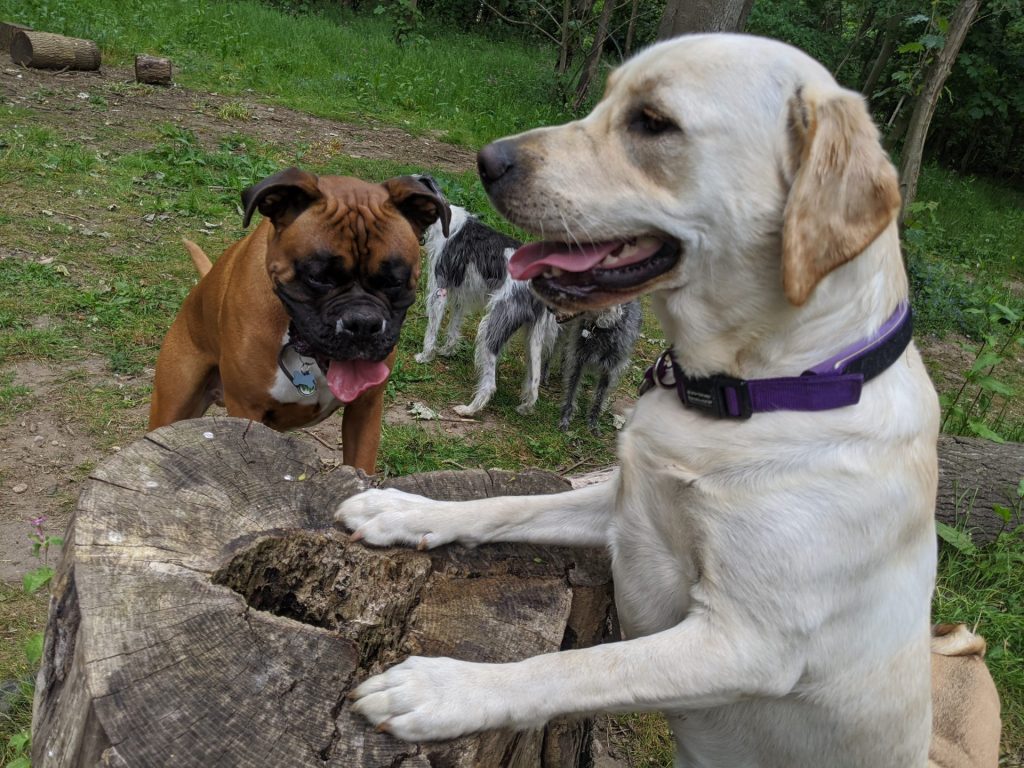 Peace of Mind
Holidays for you, holidays for dogs, that's our motto! When you entrust your pet into another's care, you want to be sure that they're receiving the love and attention that you'd give them at home. That's why we created a luxury dog boarding facility fit for a king (or a King Charles spaniel). Each room is private, fully heated, and insulated to keep your dog toasty, even on the coldest of nights. We encourage you to bring items from home such as bedding and food, this will help to keep routines as close to normal as possible.
At Happi Days your dog will get access to highly trained dog boarding services staff. Our staff have experience with many types of dogs of all temperaments, and each of our staff members is professionally trained in the handling and care of dogs. We know how difficult it can be to leave your dog behind when away. To put your mind at ease we can provide photos of your dog's stay with us, and you're always welcome to contact us at any time to check up on your pet.
For a happy dog, book your pooch in for a stay at the Happi Hotel!