Overnight Dog Boarding or Day Care?
As pet lovers, we all want to be around our beloved pooches as much as we can. But there are times where you may need to find alternatives for looking after your dog while you are away. Traditionally, dog kennels were the default option for temporarily looking after your pet; however, these can be an impersonal choice that will not help a dog's anxiety. Fortunately, two other options, overnight dog boarding and dog day care, have grown in popularity. So, what do these options involve, what are their benefits, and which is the best choice for your dog?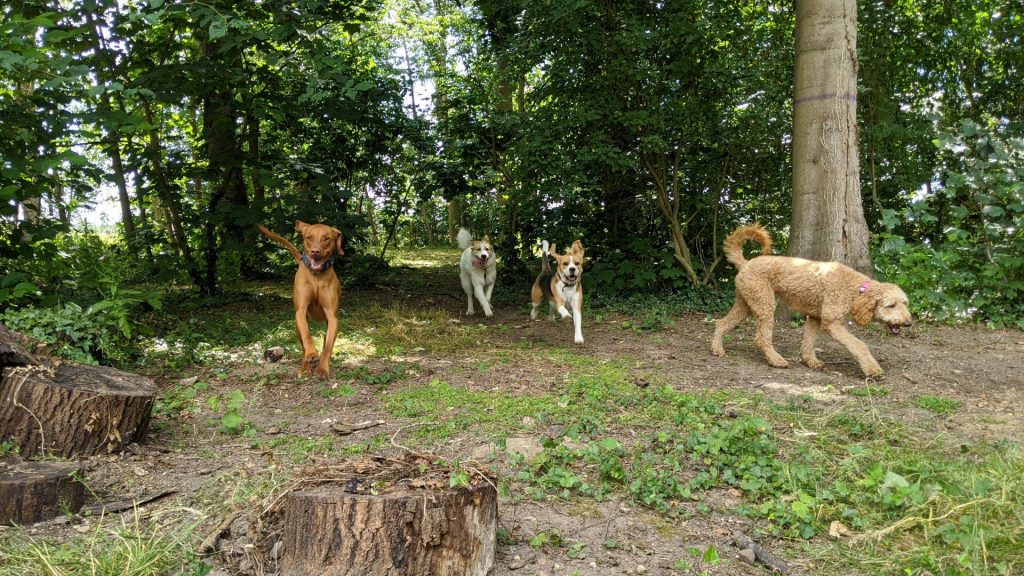 Benefits of Overnight Dog Boarding
If you are going away for a day or so, then overnight dog boarding is a great choice. Dog boarding offers your pooch a temporary stay in a home where trained professionals will look after them. These are often large homes in rural areas with plenty of space and gardens for your dogs to explore. In addition, dog boarding locations often house several dogs at a time; this can be a great way for your pet to meet some new friends. If you choose this option, we recommend that you allow your dog to explore the home before their stay. This will help them to adjust to the environment well ahead of time.
Benefits of Dog Day Care
Dog day care is a great solution for those who are unable to look after their pets during the day. Day care centres are staffed with qualified dog specialists who know the best way to look after your pup. At Happi Days, we cater for all breeds and sizes and make special arrangements for dogs with special needs. We also offer quiet areas for dogs who are less comfortable socialising with other animals. This is a great choice for those who may be away all day and for dogs that may suffer from separation anxiety. We recommend visiting ahead of time to ensure your dog is comfortable during their stay.
Which Is Better: Dog Day Care or Overnight Dog Boarding?
Just like people, not all dogs are the same and both services cater for different needs. Dog boarding is great for when you are going to be away for a night or two. They are also great for independent dogs who like socialising and plenty of stimulation. For dogs who are less sociable or who are likely to be stressed by being separated for too long, dog day care is a much better solution. Day care centres ensure your dog is well looked after and their specific needs are cared for during the day. Ultimately, you will need to determine which solution works best, depending on your dog's personality and history.
Happi Days Boarding Services
At Happi Days we offer luxury overnight dog boarding that will ensure your dog can enjoy a holiday of their own. Our insulated dog boarding blocks feature underfloor heating and air conditioning, raised beds with soft bedding and flooring, and three acres of woodland play area secured with six foot fencing for every dog's protection. To find out more about our local dog boarding and day care services, contact us at Happi Days today!