How To Combat Canine Arthritis
Not everyone would consider canine hydrotherapy for their dog, but there are several reasons why it could be a very good idea. Most of us have an elderly relative with joint pain, but arthritis in dogs is also very common, affecting four out of five older animals. If your dog is finding it hard to do things it used to do easily, it could be a sign of arthritis.
One of the newest services at our Happi Days centre in Martlesham is a large hydrotherapy pool. Hydrotherapy for dogs is just as beneficial as it is for humans, and let's face it, most dogs love water. Read on to discover how canine hydrotherapy could improve the life of your dog.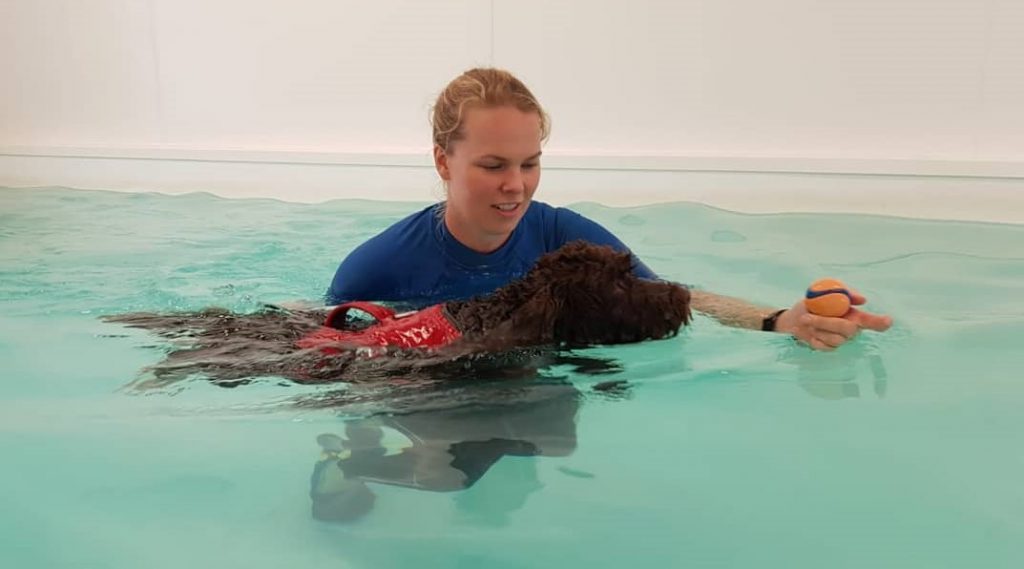 The benefits of hydrotherapy
Hydrotherapy for dogs has been recognised as a highly effective way to combat joint disease. When arthritis sets in as dogs get older, physical activity becomes increasingly painful. This can cause your dog to gain weight and lose muscle tone, which only makes things worse. Swimming in a hydrotherapy pool is a non-weight bearing exercise. It allows the dog to exercise the muscles, it needs to, but without experiencing pain. The water is warm, and this helps to increase vital blood flow to the muscles. Canine hydrotherapy can benefit a range of conditions, from muscle loss and joint pain to stress.
The benefits of regular massage
Another physical therapy for dogs that is often overlooked is massage. Dogs generally find it very relaxing, but the manipulation of muscles has a number of other benefits. Massage increases circulation and flexibility, which in turn reduces joint pain and stiffness. Increasing blood flow to the muscles around arthritic joints helps to maintain their tone. This means the muscles are better able to support the joint.
Foods to avoid
A healthy diet can do much to improve conditions like arthritis in dogs. If a dog is overweight, there will be more pressure on the affected joints. This will mean additional pain and discomfort during physical activity. A diet containing less fat and more fibre is recommended. Pain from arthritis is caused by inflammation, so certain foods should be avoided. Present in many commercial dog foods, grains and corn could increase inflammation, so always read the label. In general, highly processed foods should be avoided, so look out for salt, sugar and artificial additives.
Strategies to use at home
Try and keep your dog moving as much as you can so that their joints don't become stiff. Regular short walks are recommended, but it's probably not a good idea to encourage it to chase a ball. Provide well-padded bedding away from draughts – memory foam can be helpful to support joints. Keep your dog warm if you can, and dry them with a towel after a walk in the rain. Slippery floors can be a nightmare for dogs with arthritis, so use rugs or non-slip mats to make their life easier.
Dogs need special treats, too. So why not book your pooch in for a hydrotherapy session with one of our friendly team of experts.